Sal & Phil's is a seafood restaurant and bar located in Ridgeland, MS. In 1989 Sal Todaro and his partner Phil Siezler, the original Sal & Phil, opened their doors. Over 30 years later, those same doors are still open.
In 2013, Casey Waggener and Anthony Walker became co-owners with their former boss, Sal Todaro. The pair were locals of Ridgeland, MS and practically grew up at Sal & Phil's. Waggener and Walker started working at young ages as a busboy and a server — working their way up to their success. In 2020, Casey Waggener became the sole owner of the restaurant, choosing to keep the original name, Sal & Phil's — known by many locals and regulars of the restaurant.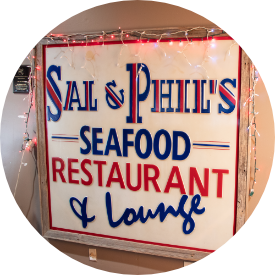 The restaurant has only grown and expanded over the years. A full-service bar was added after 2013, featuring 30 taps offering domestic, import, and craft beers. Also, several specialty cocktails and a signature "Build your own Bloody Mary" are staples at Sal & Phil's.
Sal & Phil's takes pride in having the freshest seafood in town. The menu features their famous royal reds, Po-boys, Mississippi catfish, shrimp, Louisiana crawfish, fresh oysters, and so much more.
What impresses customers more than the delicious food and extensive bar is the service provided. It is not hard to become a regular at Sal & Phil's. By your 3rd visit, the staff already know you by name, making Sal & Phil's feel more like a family than a restaurant.
The local spot has been a staple restaurant and bar for residents of Ridgeland for over 30 years. Sal & Phil's has developed an intensely loyal group of regulars and long-time staffers. The restaurant may have grown and changed with time, but the original atmosphere has stayed the same.
Welcome to the Sal & Phil's Family!